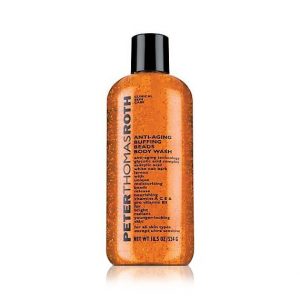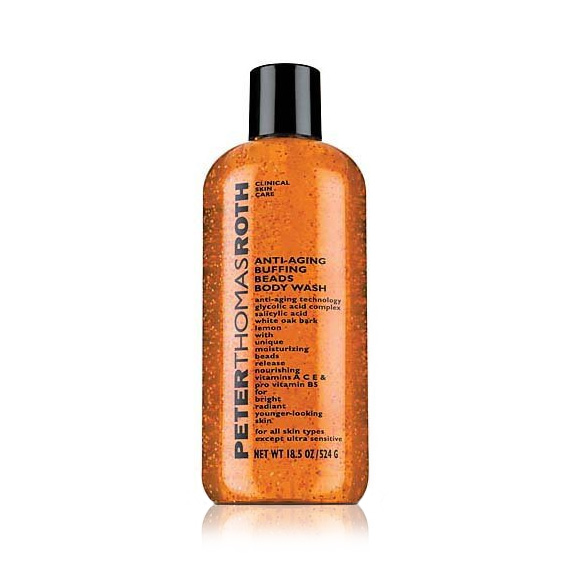 Peter Thomas Roth Anti-Aging Buffing Beads
Anti-aging technology rejuvenates, clarifies and brightens with exfoliating jojoba beads, glycolic acid complex, salicylic acid, white oak bark, lemon, allantoin and whole leaf aloe vera.  For face and body.
An ultra gentle anti-aging scrub that may be used on the face and body. Glycolic acids, salicylic acid and botanical brighteners help exfoliate and clarify the skin to produce beautiful fresh, youthful looking skin. Ultra-fine jojoba beads work in two ways. First, they help exfoliate surface dead skin cells without irritation, allowing active treatment products to penetrate better. Then, the ultra-fine jojoba beads help refine skin texture and smooth fine lines.
Partipants in a four week consumer efficacy study reported:
96% agreed that this scrub helped to deliver anti-aging results to their skin
96% agreed their skin appeared brighter
92% felt their skin was clarified after using this product
92% agreed they saw less blackheads after using this product
92% agreed their pores were less clogged
88% agreed that this scrub was ultra gentle
88% felt they had more youthful-looking skin
84% agreed they saw an improvement in their skin texture
Jojoba Beads – Help refine skin texture and smooth the look of fine lines
Glycolic Acid Complex (AHA) – Helps exfoliate dead surface skin cells and stimulates cellular turnover
Salicylic Acid (BHA) – Helps to smooth out the look of fine lines and wrinkles
White Oak Bark – Helps brighten the appearance of skin
Lemon – Helps brighten the appearance of skin
Allantoin – Helps soothe and calm the skin
Aloe Vera – A natural plant extract that helps soothe and hydrate the skin